PigMan's BBQ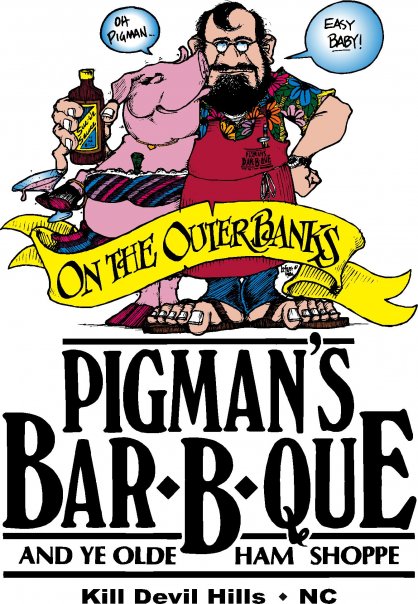 No products to show at this time.
PigMan's BBQ
Kill Devil Hills, NC
1606 S. 441-6803 Kill Devil Hills, NC 27948
Here at PigMan's we take pride at following time-honored NC BBQ traditions, while getting a little creative with some of the ingredients.It's the oldest style of BBQ in the nation, that's all! Specifically, Eastern North Carolina BBQ (ENCS) is vinegar-based with a variety a spices that make every North Carolina roadside BBQ joint unique. At PigMan's Bar-B-Que, we take all the necessary steps to make our BBQ unique as well. For example, all of our signature BBQ's are cooked onsite by smoking. We cook this way for two reasons: To cook the meat slowly to retain the natural juices, and infuse it with a blend of hickory and oak flavor. Once the meat is cooked, we add our signature sauces to the meat, thus creating BBQ. Every BBQ option we sell is hand-crafted by our production manager, and has some sort of vinegar-based sauce added to them. Although our vinegar-based BBQ options are delicious, we have discovered that there are many different palates out there to please. As a result, a few of our BBQ options have ketchup and an additional blend of proprietary spices to give our customers a "tomato-based" option. This option is often called, "ketchup-based" as well.Traditionally, NC BBQ is pork, but we've been giving the treatment to some other delicious meats as well. Below are descriptions of our different BBQ options as well as a description of the sauces that correspond with each BBQ.
PigMan's BBQ
1606 S. Croatan HWY, Kill Devil Hills, Kill Devil Hills, NC